Independent optical shops is always the best place to get a great pair of glasses from the customer service to the years of knowledge passed down through generations about lenses and techniques. If you're ever in London Town, here are 12 of the most historical opticians with great service and curated selection of designs of frames and sunglasses.
Nestled in the heart of Soho, Mr. Tortoise stands as an exclusive destination for discerning eyewear enthusiasts. This petite corner store exudes elegance, showcasing a meticulously curated selection of frames from esteemed design brands worldwide.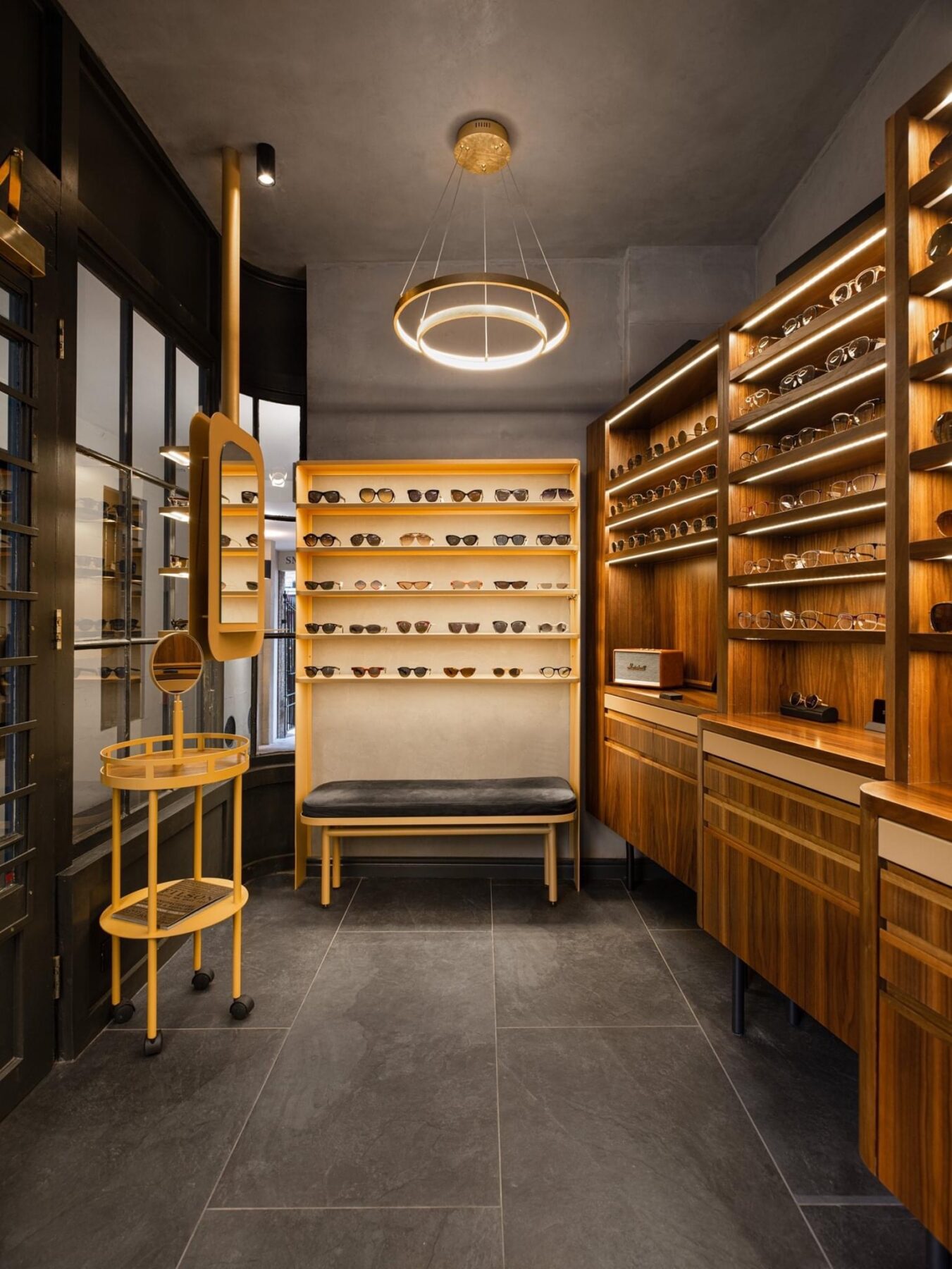 The boutique's captivating design captures attention with its distinctive corner glass frame facade, featuring rounded edges that allow an abundance of natural light to flood the interior. Despite its compact size, Mr. Tortoise maximizes every inch of space, cleverly utilizing the glass facade as both a shopfront and a captivating retail display. Passersby are enticed by the sight of carefully placed eyewear stands against the walls, thoughtfully angled to ensure the shelves are visible to pedestrians.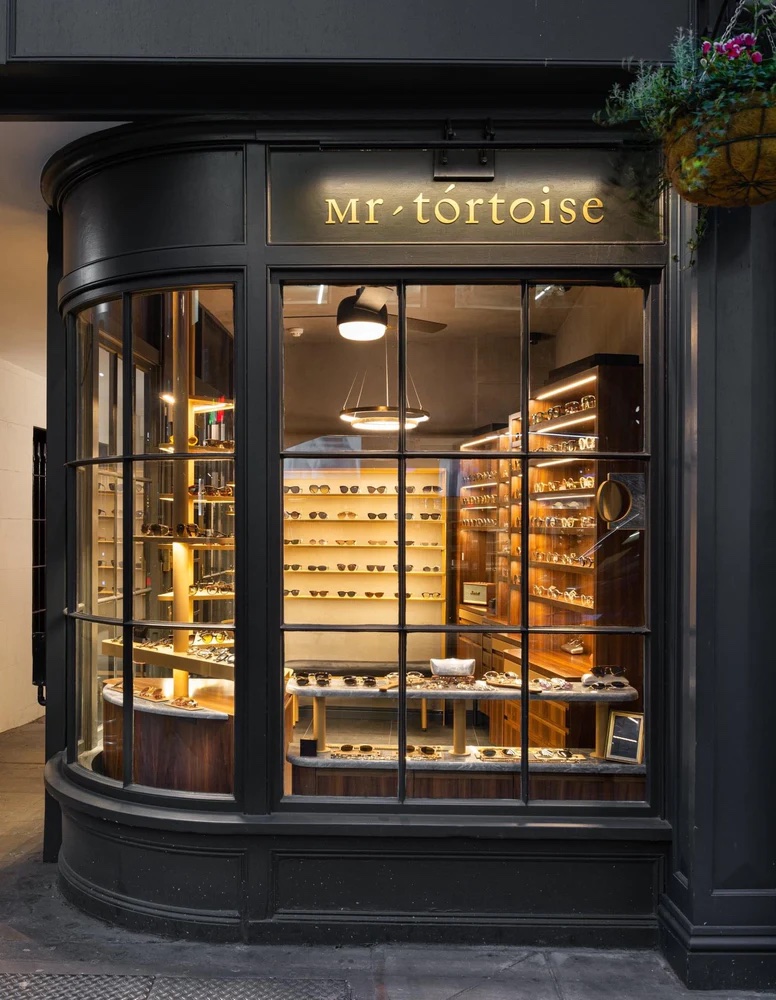 For those with an eye for premium eyewear, Mr. Tortoise is a treasure trove, where sophistication and style converge in a space that embraces both functionality and aesthetic finesse.
Brand Available: Ahlem, Akoni, Eyevan, Rigards
Address: 57A Brewer street, Soho, London
The Eye Place prioritizes striking design, evident from the inviting atmosphere the store presents as customers enter. Their carefully curated eyewear collection showcases some of North London's most exquisite designs, reflecting a decade of dedication to delivering exceptional eye care with a strong focus on impeccable aesthetics. As a result, The Eye Place has established itself as a sought-after destination for individuals seeking discerning eyewear choices.
Address: The Eye Place, Belsize Park, 153 Haverstock Hill, London
Brands Available: Matsuda Eyewear Collection, Moscot, MYKITA, Orgreen, Tom Davies, Rolf Spectacles, Cutler and Gross, Garrett Leight California Optical
Specstacular, situated in the vibrant neighborhood of East London, stands as a reputable optical shop offering a blend of premium eyewear and exceptional eyecare services. With a profound devotion and passion for all things optical, this establishment ensures a distinctive and fulfilling experience for its clientele.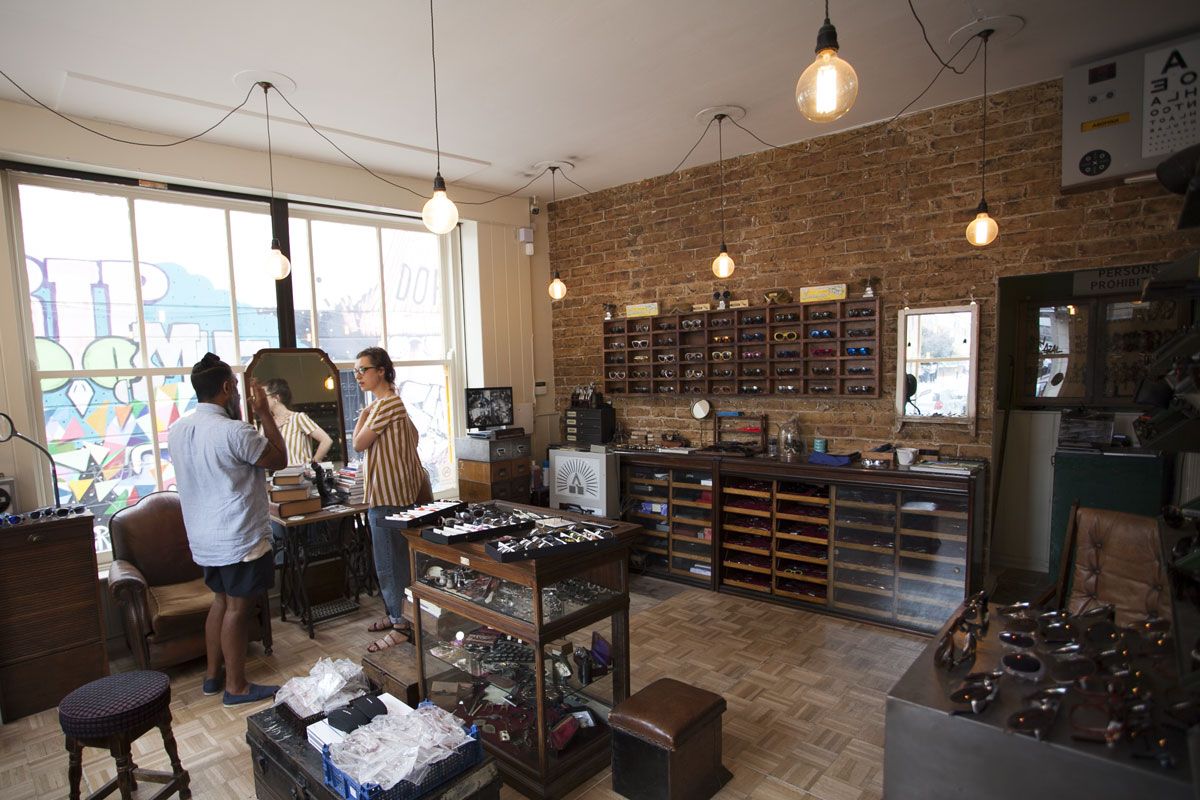 Upon entering the store, customers are presented with a thoughtfully curated selection of eyewear frames that cater to diverse styles and preferences. From timeless classics to contemporary trends, Specstacular provides an array of options to suit individual tastes.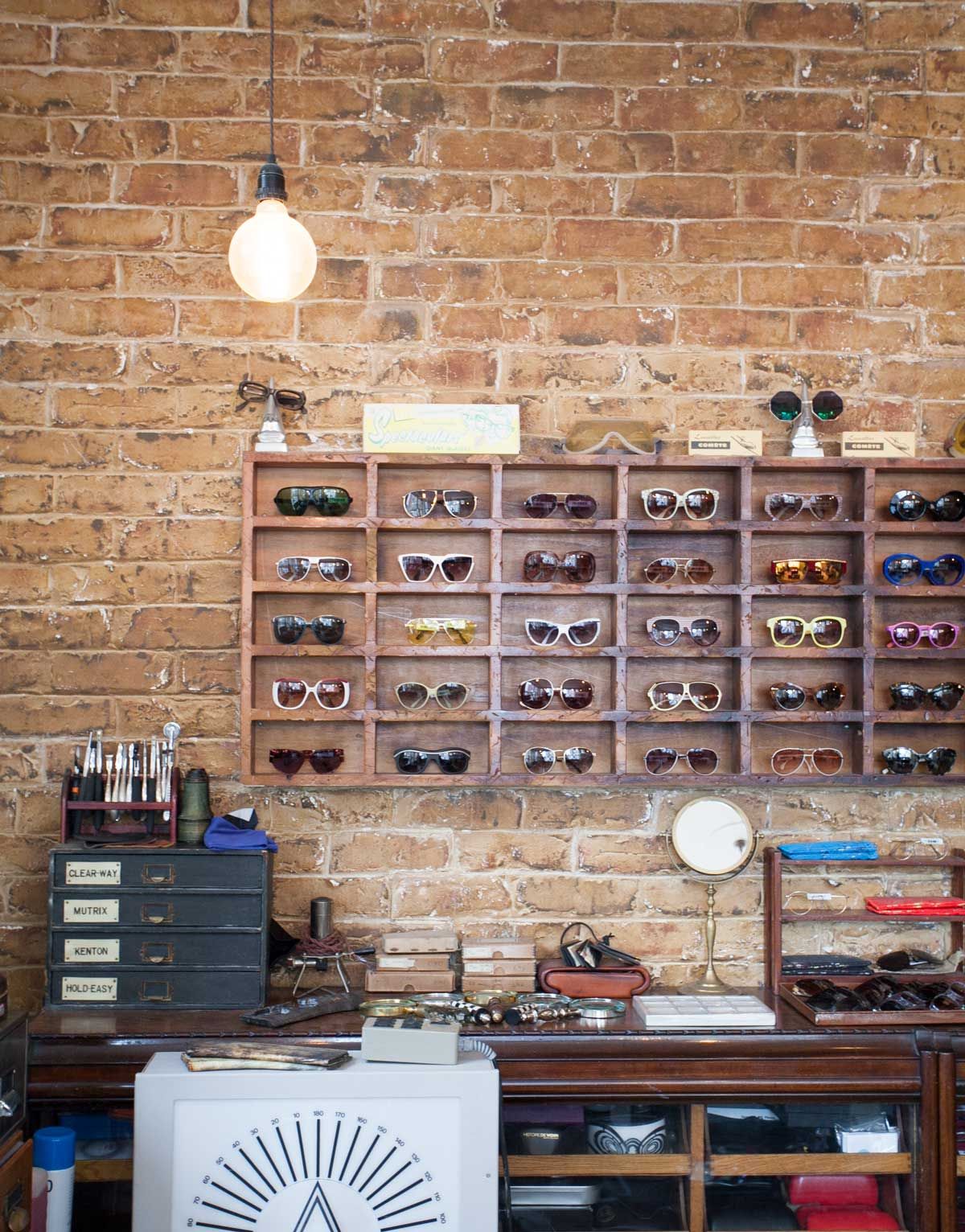 Beyond being a mere optical shop, Specstacular goes the extra mile by providing assistance with frame adjustments, repairs, and refurbishments, ensuring that customers' eyewear remains in optimal condition.
Address: 40 Cheshire St, London
Brand available: Rigards, Linda Farrow, Savile Row, Kuboraum
At A View, the primary focus is to ensure that eyewear not only offers comfort and style but is also well-suited to individual needs. The selection of frames is meticulously hand-picked, resulting in a diverse and up-to-date collection. The team is always on the lookout for new trends and fashions, incorporating the latest designs and materials from around the world. The frames are predominantly hand-made, utilizing a wide range of materials, from traditional acetates to titanium.
A distinctive feature of the optical shop is the bespoke design service, offered in collaboration with renowned brands such as Tom Davies, Lindberg, and Feb 31st. This exclusive service allows customers to participate in designing frames made from natural materials, including gold, platinum, wood, and horn, creating a truly personalized and unique eyewear experience.
Address: 6 Crouch End Hill, London
Brands Available : Oliver Peoples, Paul Smith, Tom Ford, Persol, Claire Goldsmith, Initium, Anglo American, Anne Et Valentin, Zoobug, Etnia Barcelona, Young Wills, Lafont, Dita, Thom Browne, Andy Wolf, Anne Et Valentine, Cutler And Gross, Mikli, Stark

The practice is world famous for being able to help those with the most complex eye conditions. Our specialist optometrists and dispensing opticians ensure that our knowledge and technology is kept up-to-date, maintaining our position as one of the foremost practices in the country.
We take the opportunity to attend either as delegates or speakers to the most important international conferences and optical shows. We seek out the best possible products for our patients from all over the world and, because of our reputation, new products and materials are frequently made available to us before they are available to other practices.
Address: 7 Devonshire Street, London
Brands Available: Sunday Somewhere, Lucas De Stael, William Morris, Caroline Abram

Bowing Opticians has been recognized for providing top-quality frames to its customers. They have a distinct preference for frames that do not prominently feature designer branding, as they believe that such designs often lack the personal touch of the designers themselves. Their focus is on selecting stylish and beautifully crafted frames that consistently meet high manufacturing standards.
Bowing Opticians, a genuine love for eyewear and a passion for perfection are evident. They are dedicated to creating eyeglasses and sunglasses that not only function optimally but also fulfill aesthetic desires. Their belief in enjoying their work and creating a delightful experience for their customers motivates them to provide exceptional eyewear solutions.
Address: 58 Fleet Street, The City, London, EC4Y 1JU
Brands Available: Oliver Peoples, Paul Smith, IC Berlin, Dita, Claire Goldsmith, Anne et Valentine, Tom Ford, Cutler & Gross, Lindberg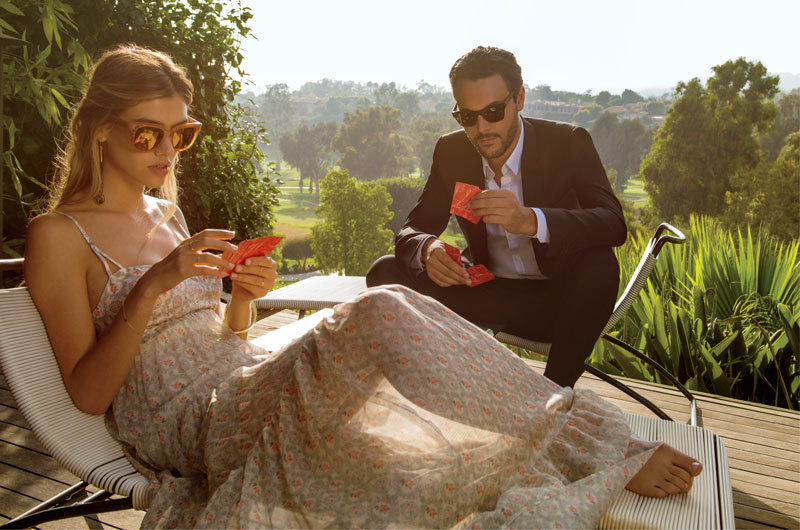 As part of the new wave of independent opticians, The Eye Company is driven by the creative spirit and individuality of their clients. For more than twenty-five years, they have been situated in the vibrant heart of London's Soho, offering a diverse range of exceptional services with a personalized touch.
Challenging the conventional offerings of larger chains, The Eye Company takes pride in bringing distinct and glamorous eyewear styles to the UK market. Their wealth of design knowledge allows them to cater to the unique personalities of each client, ensuring a perfect match. Customers appreciate the optician's keen attention to detail, aesthetic sensibility, and ability to strike a harmonious balance.
Specializing in vintage, custom, and bespoke eyewear, The Eye Company curates iconic and innovative frames to suit every style, from elegant sophistication to flamboyant chic. Their collections feature designs sourced from leading eyewear designers across the globe, offering clients access to the latest trends and timeless classics alike.
Address 159 Wardour St, London, W1F 8WH
Brands Available: Hoet, Anne et Valentin, Orgreen, L.G.R, MYKITA, Thom Browne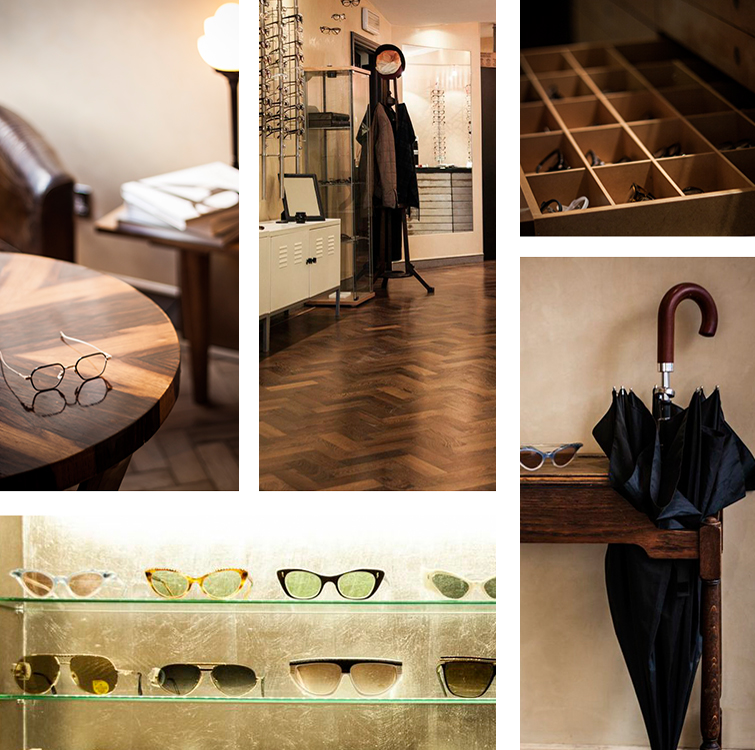 In this unique independent practice, situated in the Harley Street area of London, we aim to create a warm and welcoming environment within the traditionally furnished surroundings.
Emphasis is placed on personal service, correctly fitted frames and accurately dispensed lenses.
In a market dominated by larger optical groups here is a practice dedicated to providing clients with a reassuring, individual and professional service.
Address: 41 New Cavendish Street, London
Brands Available: SALT, Sama Eyewear, Face ȧ Face, Masunaga

Eyeworks London first opened it's doors in the summer of 2010. With a fresh approach to optometry in mind we have created a boutique optician practice. At Eyeworks London our main focus is on contemporary hand-made eyewear and attentive informative eye examinations. We have travelled the world to source our customers unique glasses not found in usual high street stores. As well as catering for adults we also believe that children deserve great eye care and eyewear too.
Address: 44 Gloucester Road, London, SW7 4QT
Brands Available: Kirk & Kirk, Cutler and Gross, MYKITA, DITA Eyewear, FEB31st, Caroline Abram, Filao, LINDBERG, Oliver Peoples Eyewear
Mallon + Taub is an award winning optical boutique located on Paddington Street, Marylebone, in Central London.
Winner of the "Fashion Eyewear Practice Of The Year" award and listed in Time Out magazine's "Top 100 Shops & Services In London".  Optometrists Joan Mallon and Shanah Taub opened the boutique in 2003. The idea for the boutique was inspired by a visit to an eyewear fashion show in Milan. Impressed by the style and variety of the eyewear collections available, they made a plan to open our own store.
Address: 63 Paddington Street, London, United Kingdom
Brands Available: Orgreen, Gold And Wood, Oga, Harry Lary's, , Chrome Hearts, Oliver Peoples, Lunor, Tom Ford, La Eyeworks, Oliver Goldsmith, Mykita, Maui Jim, Barton Perreira, Orgreen, Oliver Goldsmith
Built upon the tenets of exceptional service and traditional craftsmanship, E.B. Meyrowitz holds its philosophy at the very heart of its ethos as an optical atelier. Driven by the desire to fashion exceptional pieces of handcrafted spectacles within a environment of ease and comfort, the artisan endeavours to grant patrons not only a piece of eyewear but an experience both enjoyable and memorable for years to come.
Address: 6 The Royal Arcade, 28 Old Bond Street, London, W1S 4SF
Established in 1962, David Clulow has cultivated a robust reputation for delivering top-notch optical care and services, encompassing sight tests, contact lens fittings, spectacles, sunglasses, and prescription sunglasses. As a prominent optical provider, David Clulow Opticians has become synonymous with contemporary designer eyewear. With a comprehensive range of the latest sunglasses and designer glasses, the store caters to the preferences of discerning customers.
Address: 6 Neal Street, Covent Garden, London
Brands Available:Chrome Hearts, LA Eyeworks, Philippe Starck, Prada, Chanel, Ray-Ban, Oakley, Persol, Tom Ford, Oliver Peoples, Chloe, Versace, Marc Jacobs, Alain Mikli, Miu Miu, Giorgio Armani