The marvels of nature frequently offer sources of inspiration to WooDone.
More than ever before, this year the beauty of flowers reigns supreme in the collection the South Tyrol brand has officially presented at Silmo 15: hay, roses and violets are strongly featured on every WooDone frame, making each eyewear model a unique and inimitable masterpiece. Hence the creation of Fienum, Roses and Viöl.
Ever increasing amazement for the brand's flair and creativity greets each new collection. There is nothing simpler than letting oneself be charmed and inspired by the beauty of nature around us. But, in this case, what comes into play are the manual skills, expert craftsmanship and patience, as well as the awareness that fine things take time.
It takes 75 manual operations to complete a WooDone eyewear model, amounting to over 4 hours. A truly painstaking job. These are the factors making each frame so special and so precious.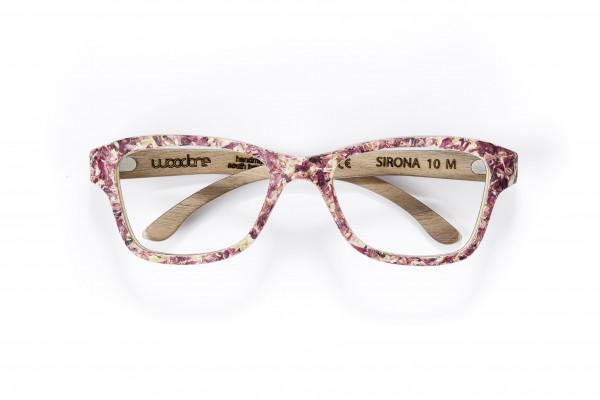 The collection now boasts 23 models, 12 of which presented in Silmo Paris 2015, all available in 4 versions: walnut, acacia, dark ash and our latest novelty, chestnut, a particularly intense wood variety that effectively expresses a powerful and "worn" sensation in its look and hand-feel.
Wood is tradition, getting back to basics, the classical and intense sensations conferred by wood in its many varieties which, with each new collection, is enhanced by new styles, shapes and finishes.
Nature on the other hand represents experimentation, uniqueness and design. This family comprises Bling, Ulmus and the latest releases Fienum, Roses and Viöl: these are not eyewear models but treatments and special manufacturing processes which may be applied without exception to any model of the collection.
Extremely light and of exquisite quality, WooDone frames are entirely made in wood (except for the spring hinge in a special alloy) using material from trees that are certified as being sourced in South Tyrol.
Each frame – crafted from a single piece of wood – is hand-made with extreme precision. A special natural lacquer finish makes it easy to clean, non-allergenic and weatherable, whilst a natural glue has been chosen to apply the leaves and flowers to frames in the Nature version.