HAPTER, exclusive brand of eyewear inspired by a pair of glacier military goggles from the Second World War found on a summit within the Dolomite mountains in 2009.
In the first collection txtl001, a skeleton of flexible industrial-grade surgical steel is fused with the outer skin of high-end textiles produced by Lanificio F.lli Cerruti, inspired by their military archives of the 1940s destined for the world of army uniforms.
The synthesis between elements in apparent opposition in a finely exclusive product is the "design challenge" of HAPTER.

Hi Eric and Mirko! Tell us something about your story and how it all started. Hapter is a young company, but already won an "iF Product Design Award" in 2013!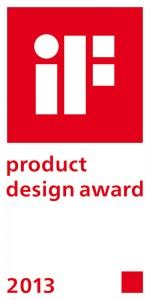 Hi Fabrizio, thanks for the interview!
We are childhood friends, with a shared passion for eyewear and design, having both worked in this industry, and we have always been engaged into endless discussions on eyewear design. Yet the "research mission" that eventually led to HAPTER project started in 2009, when we found a military goggle from the Second World War on a summit within the Dolomite mountains, our favourite playing field.
Those recovered goggles inspired us to re-create an object rigorously practical, yet very personal and comfortable like the goggle itself, with a more contemporary look.
The first hand-made prototypes immediately highlighted the big challenges we would have to face, that kept us in action for 3 years to industrialize a top quality product. At the end of 2012, when not yet in the market, we won the prestigious iF Product Design Award 2013, a prize whose winners we always looked with great respect; we knew the time had come to begin our journey as entrepreneurs.
By the way, we have been nominated for the German Design Award 2014…! This is just very fresh news.
What inspired you to design your first collection of steel and textile frames, txtl001? 
The world of traditional artisanal soft materials, particularly applied to avant-garde clothing and accessories, is one of our main interests. The decision to combine it with special surgical steel came out of our founding mission to create reliable and confortable eyewear, with a soft touch. The surgical steel we selected, undergone a special manufacturing treatment, becomes a stable and reliable base, yet soft and pleasant at touch respecting at full the "haptic experience" of the textile.
Then more recently, during a textile exhibition in Milan in 2011, there was a fortunate encounter with Nino Cerruti, president and owner of Lanificio F.lli Cerruti (Cerruti Woolen Mills). He's shown immediate surprise for HAPTER prototypes since, using his own words, "it's an object that respects the touch of the fabric"; amazingly, he put at our disposal a dedicate team to back up the project as far as the textile is concerned.
So we started to have easy access to the old Archives of the Lanificio, where we fell in love with the cloths Lanificio used to produce the uniforms representing the Italian Militay from 1920 and 1940s; reinterpreted into modern fabrics 100% cotton, they represented the perfect choice for our first collection txtl001, paying homage to our initial history.
Stainless steel and textile is a very unique and interesting mix of materials. Are there any particular production challenges or difficulties you had to solve?
The vision of this new product brought about the development of an exclusive industrial-artisan process: short, linear and sustainable, focusing on a respect for materials, maximizing their esthetic and tactile properties and their mechanical and functional attributes, while minimizing the waste of production and its environmental impact.
It is a five-phase production process we created, radical and masterfully carried out by expert hands backed up by the most advanced technology: central to this are the hands of what we call "Industrial Artisans", experts of artisanal materials that evolve from their experience on traditional machines to become strategic part of a new industrial and more modern environment, adapted to create contemporary objects.
Every step performed to produce an HAPTER is unprecedented in the optical market and comes out of a long experimentation with local partner companies, all of them master in specific manufacture skills.
Yet, our focus is on giving the perception of a simple and very natural product, harmonious in its elements and proportions, not complicated and experimental like in fact it is. For us, this is the secret of all masterpieces, being them fashion accessories, design products, or art.
Your opinions on present and future trends in the eyeglasses market?
A clear growing trend are mature consumers shifting to basic products with exclusivity contents. Although they are still expecting social recognition from what they buy, this is more based on their good taste in searching and finding something really exclusive. Wealthy consumer, particularly in mature markets, will be willing to be recognized as "smart consumer" as well, able to justify the money they spend on a product with a story of exclusivity to tell. Maybe this is more our hope than a forecast, but this is where independent eyewear must find its space.
What's the future of Hapter? Tell us about your future goals or upcoming collections
We experience a continuous flow of inspirations and ideas with HAPTER, and the most difficult thing for us creative persons is to control this flow and rationalize it into coherent research projects!
Right now we are carrying on tests on at least a couple of new materials, only one of which will be launched in the next 6 months. This is a very long process that requires a lot of resources: it is based on material identification and selection, research of the partner supplier expert in the specific material that can back us up from a technical point of view, experimentation of different solutions and testing of all of them.
Besides new materials, we are eager to experiment on style, and at SILMO already we will preview a parallel and exclusive project, a concept model, which will highlight strongly our values and very young history. We cannot anticipate much for now, please keep an eye on us.
As far as our distribution goals, we expect to be in the next 3 years in all the best stores in the world in all the main markets; boutique stores with a proven history of respect for designer brands, and a clientele mature to understand new concepts.
Thanks Eric and Mirko!
So, you can find out more about Hapter here:
Hapter Brand Page at We Love Glasses