Born to move, explore, change things, experiment and go over our limits. Movitra Spectacles are glasses that can really become a part of your life without compromising the beauty and design of an essential accessory. This week, we speak to the founders to find out how the brand came about and what was the idea and inspiration behind the brand.
1) How did you get into designing eyewear?
We started from a common, simple need: the need to protect glasses from knocks and scratches. It all began with a friend at the beach. As she bent over to pick up her child, her glasses fell to the ground and, as often happens, they landed with the lenses facing down, which scratched them irreparably. That got us thinking: "We need a simple, practical system for protecting lenses". It was essential that it be something practical and simple, something that can be done in two movements, just like when you fold a normal pair of glasses. From there we began thinking about how to do it and we came up with Movitra.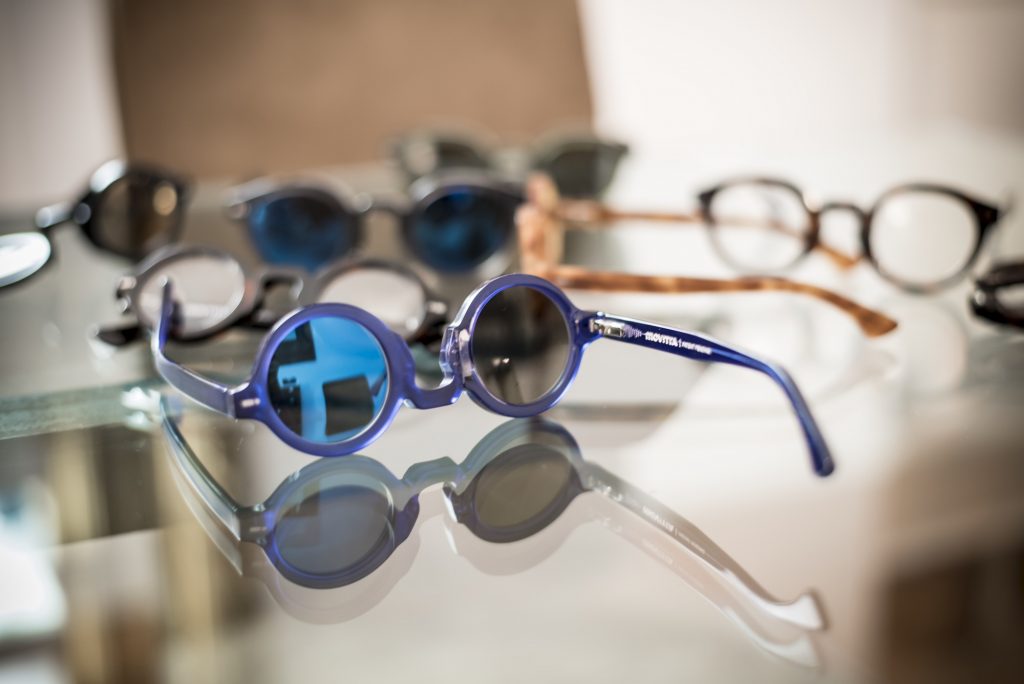 2) What is the process when you design a new collection?
Inspiration, instinct, research and development. It all comes from inspiration, from something that tells you what direction to go in. Then instinct tells you what to look for and what to discard. From there you begin to build, making full use of what you have learnt up until that point, taking note of the problems, the strengthens that can be leveraged, always remembering your target and the market.

3) How and where do you source from?
We believe that one of our strengths is that we are outsiders. None of us has a background in eyewear. I (Filippo) worked as a lawyer, after which I founded a company that has some patents related to plastic bottle production. I (Giuseppe) have a background in communications. For many years, I worked in a number of advertising agencies in Milan, while Diego comes from a 3D design background. Curiosity and the desire to construct something new, something that's ours, united us. Then, by combining our skills, we submitted our first patent applications (to date, Movitra has submitted 6 patent applications) and we began developing the first prototypes.
4) If you could use 3 words to describe your brand, what would they be?
Innovation. Quality. Italian spirit.
Innovation because we are a highly innovative business. We have created something that did not exist before and we have carved a niche in a highly competitive and saturated market.
Quality because we aim to use only materials of the highest quality and Italian manufacturing and craftsmanship. Then Italian spirit, in terms of the manufacturing and design.
Movitra's strength lies in the combination of these elements, which come together in a single product. Italian innovation, quality and style.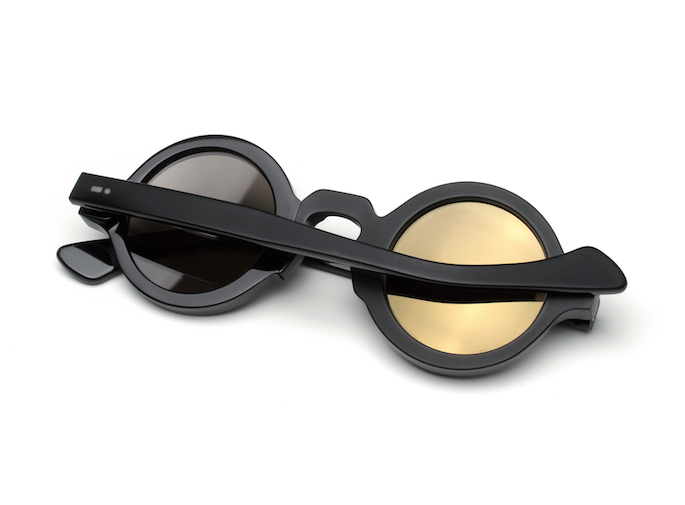 5) What was the inspiration behind the shapes and styles of the designs?
Well, let's be honest, in terms of shapes, we haven't invented anything new. And I would say that these days, very few companies do. For the first collection we took three great classic shapes and adapted them to our style and our mechanism. We wanted a collection that had character, so we decided to make our glasses thicker, with strong shapes and without too many decorations and details. We wanted to highlight the innovation provided by the internal mechanism.
With the second collection, we wanted to show how our mechanism is adaptable to any shape, which some people had doubted. Here we were a bit more daring with the shapes.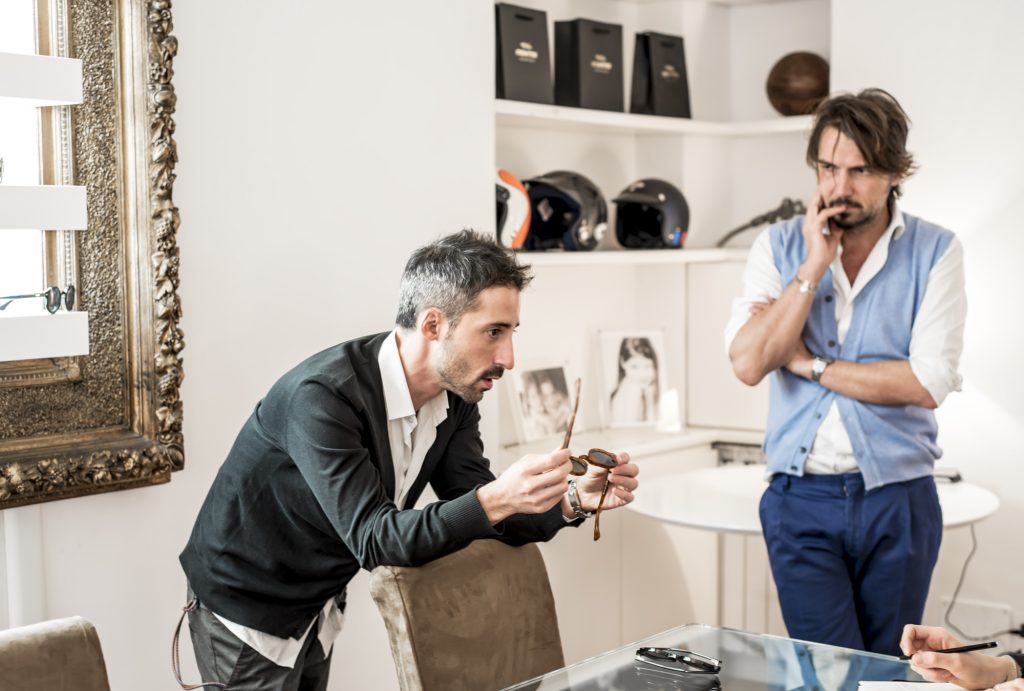 6) Tell me more about what makes you passionate about eyewear.
In truth, all three of us had a passion for glasses, but it was latent. We started out on this project driven by an idea, not by that passion. But then, at some point, looking back, we realised that all three of us were passionate, each with a fair collection of sunglasses tucked away.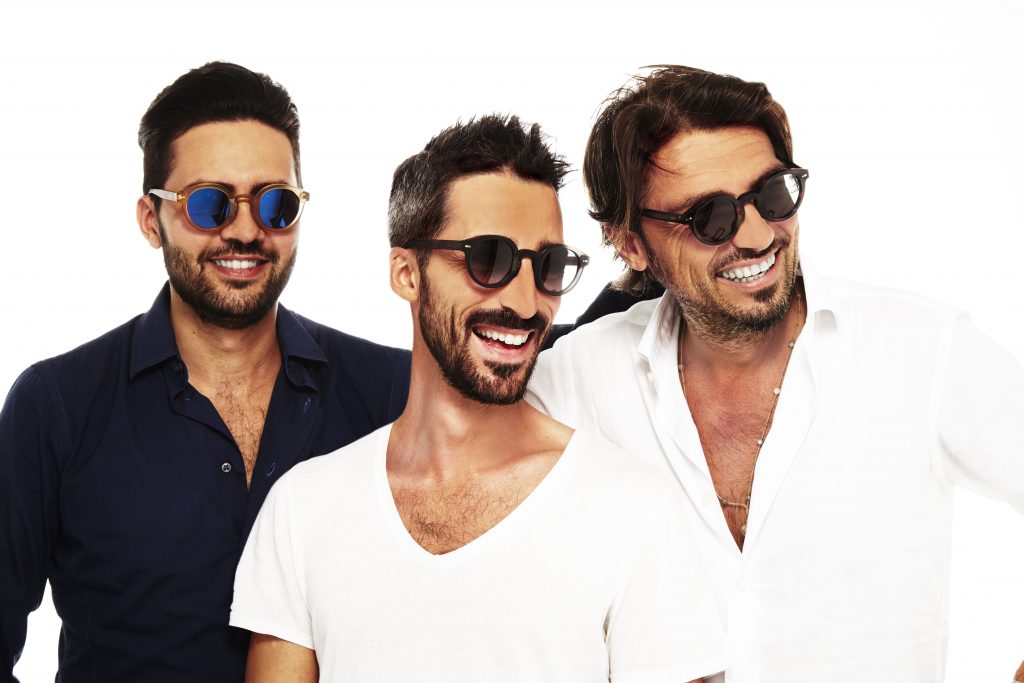 7) Which is your favourite pair of glasses and why?
Filippo: the Gregory Peck by Oliver Peoples, because I find them extremely elegant. And also because he was a legend and a tremendous style icon.
Giuseppe: I don't have a favourite pair of glasses. I'm interested in brands more than in a single product. I buy the brand more than a particular product. I really like Retrosuperfuture, the work that Daniel did in building such a strong brand from nothing is truly admirable. I love their attention to design and meticulous planning and the strong identity of the brand.
I like Oliver Peoples and Dita very much too for the care and attention paid to the details and the manufacturing. I would like to meet the founders one day for a chat. I'm sure I would learn a great deal and have a lot to discuss with them.
Diego: the 714 Steve McQueen by Persol, for their history and because they are Made in Italy, meaning they're a timeless classic from which we can certainly derive inspiration and use as a starting point.
8) How does the future of eyewear look to you?
Rosy, brilliant and in continuous growth…at least for Movitra!
Jokes aside, we'll see, but to use a metaphor, we want to enjoy ourselves, trying to ride this wave and carve a space for ourselves in this great spot.
So far we've had the pleasure of meeting people who've been in the sector for a long time, who welcomed us and our product with great enthusiasm, with whom we formed strong relationships, with whom we stay in touch and with whom we are continuously exchanging information and contacts. Others look at us askance, but this too gives us even more confidence.