This week we had the chance to speak to Jemma and Emma, the designers of Dual Tripp Eyewear. Two designers that creates individually hand customised glasses using high-end embellishments, making sure no two pairs are ever the same.
1) How did you get into designing eyewear?
Emma and myself have a background working in the fashion industry, so we are both extremely creative. We started hand customising garments for ourselves which our friends started to enquire about, but it was turned out to be too time consuming to keep up with the demand, sewing in hundreds of sequins to bags and tops, so with summer fast approaching we started hand customising sunglasses instead.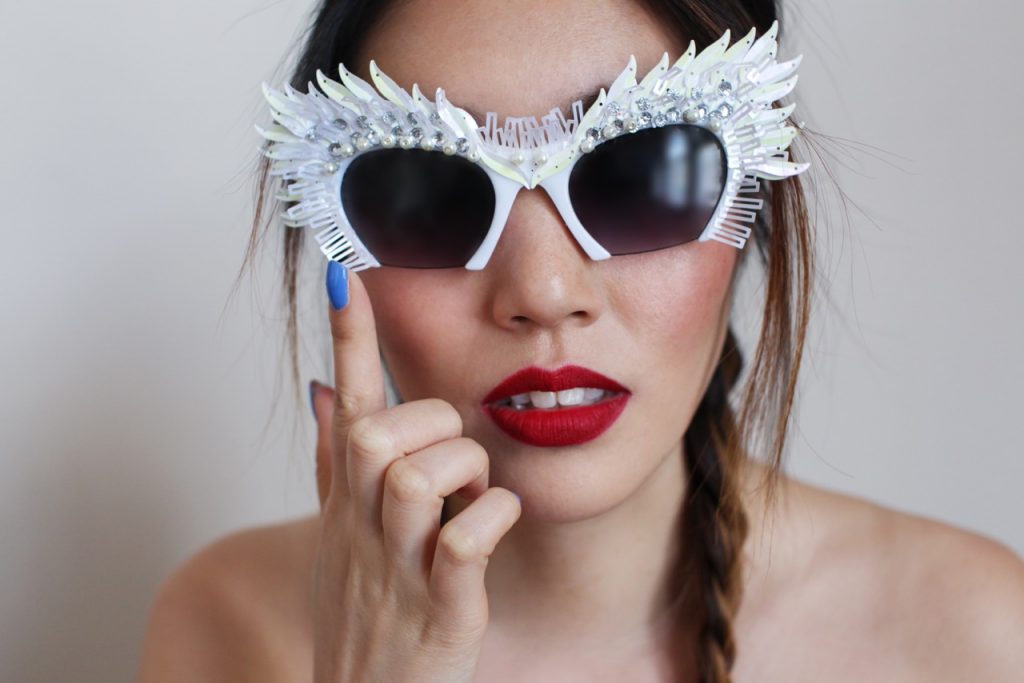 2) What is the process when you design a collection?
All our sunglasses have been individually made to a unique style so no two pairs are the same, so we don't tend to have set collections. We do however look at what festivals are coming up, take note of their themes and also what is happening in the fashion industry at the time. This year people were loving hearts and mirrored lenses. Last year was all about cats eye shapes and white sequins.
3) How and where do you source from?
We source from many places. We both have contacts from our time working in the fashion industry, so we are able to use a lot of exclusive high end embellishments from abroad that can also be seen on luxury high end branded clothing and accessories. Our sunglasses styles we source all over, we pick out all our own styles and designs by envisaging how we can later customise them.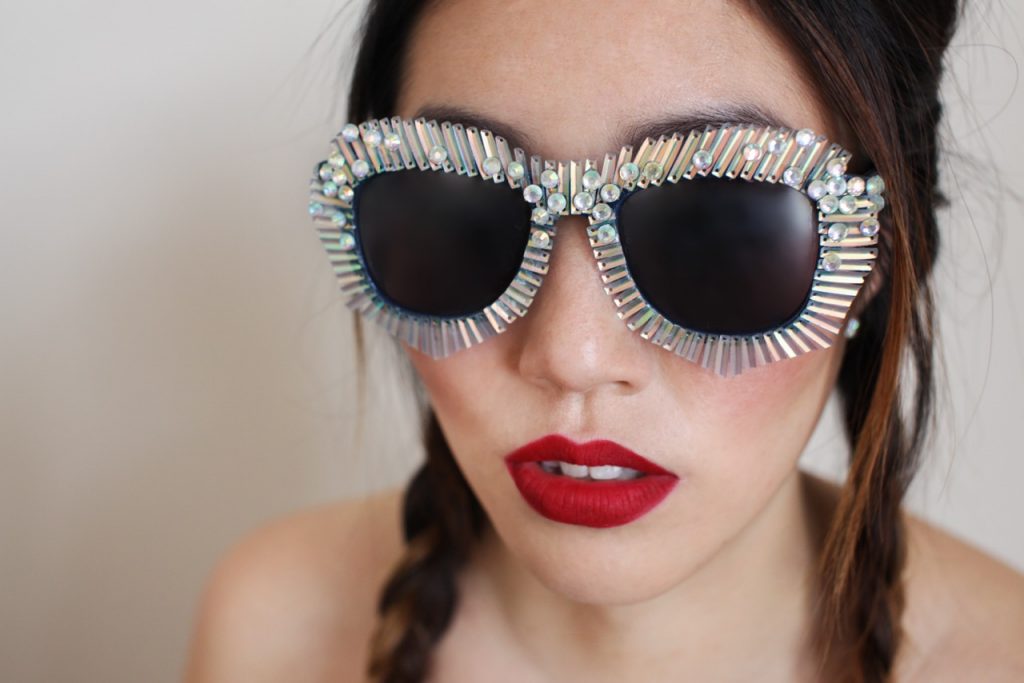 4) If you could use 3 words to describe your brand, what would they be?
Unique, stylish, statement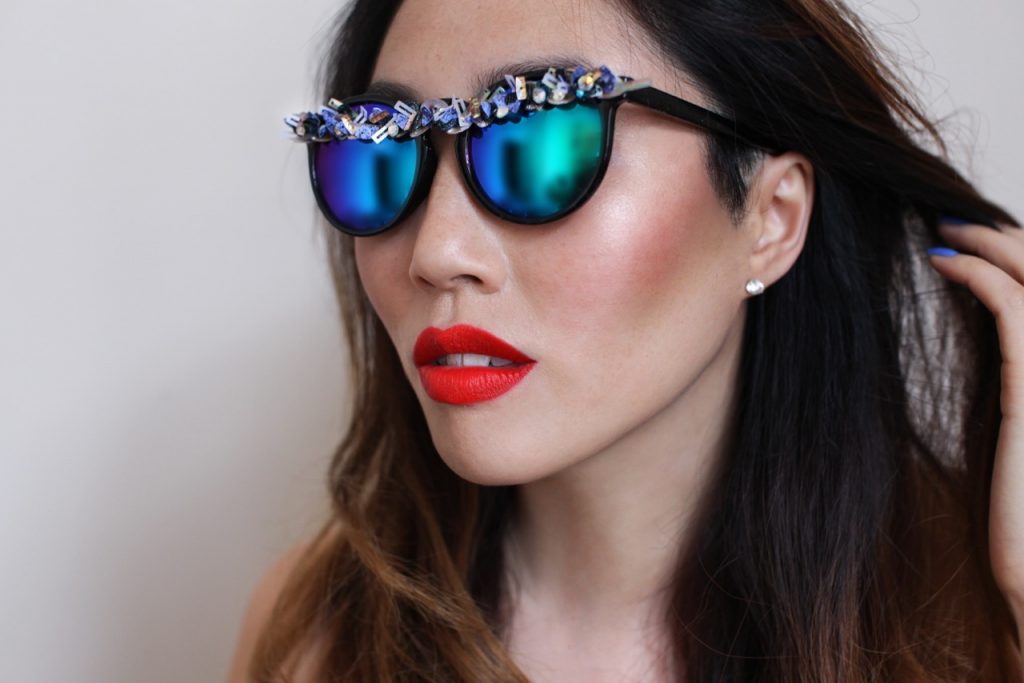 5) What was the inspiration behind the shapes and styles of the designs?
We get our inspiration from all over, as we make all pairs in a unique design, we usually have quite a clear vision in our head of what we want to do to customise each pair. We both spend a lot of time looking at what is current in the fashion industry and what other countries are doing also. We sell a lot of our sunglasses at festivals so we always take note of whats happening around the world at different festivals and try to add and improve on those trends with our own eyewear.
6) Tell me more about what makes you passionate about eyewear?
We love being creative and having an outlet designing our sunglasses. Eyewear is a great product to be able to work on as there are so many unique and different designs out there. There is always need for them as a necessity to protect you from for the suns rays but also as a staple accessory to finish off your outfit.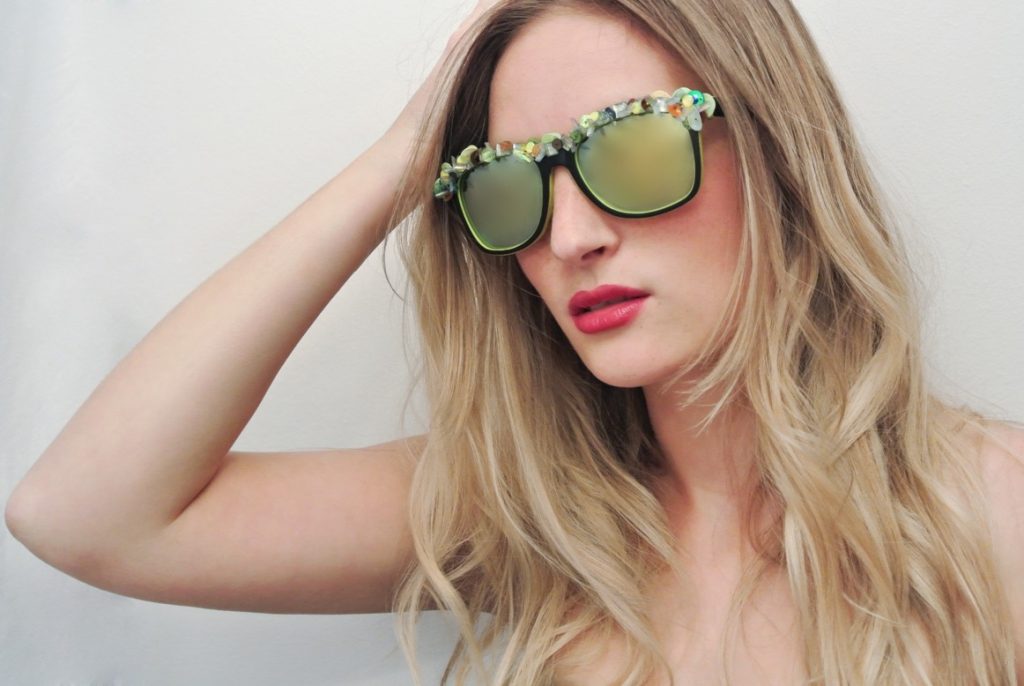 7) Which is your favourite pair of glasses and why?
As we individually invest so much of our time and creativity into every style, choosing a favourite would be too hard. Its funny sometimes when we are events selling our sunglasses, we remember the time and place that we made that specific pair, and in doing so have built a huge fondness for them, so its quite hard for us to see them go. We often joke about wanting to keep them all for ourselves! I personally love our colour mirrored lensed frames though, ones that have simple but built up customisation, enough to make a statement but minimal enough to wear them everyday around London!
8) How do you see the future of eyewear?
I think as more and more people are willing to experiment with shapes and styles theres no end to what people will come up with next! I love that frames are being made in such different designs now. Adding extra arms or changing the nose bridge shape. I think its great that people are more willing to wear statement pieces to show their style and character. I think with he release of google glasses it'd be fun to see more stylish accessible ways people could wear glasses and interact with their surroundings. Especially if it heightened peoples visual experiences for festivals and events.